Latino Book & Family Festivals

Over two decades celebrating literature
North San Diego County
LATINO BOOK & FAMILY FESTIVAL
More information will be available in the upcoming few days!!
This will be the 68th Book & Family Festival.
This is a FREE Event.
The event will include authors, workshops, book readings, dance performances, arts and crafts activities, and exhibitors.
Recognizing Greatness Awards include El Espíritu de la Comunidad Award, and La Fuerza y Sabiduría de Maestro Award.

Recognizing Greatness in Latino Literature Awards include the International Latino Book Awards and the Latino Books into Movies Awards.
The Latino Book & Family Festival Newsletter is now the Latino Events News. The newsletter includes updates about the festivals, other literacy events, webinars, podcasts, and more.
OTHER UPCOMING
LITERACY EVENTS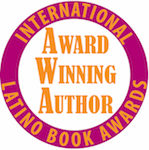 International Latino Book Awards
Reconocimientos de Libros a la literatura Latina.
Recognizing greatness in literature. Honoring authors, translators, and illustrators for their books written either in English, Spanish y Portuguese.
Latino Book into Movies Awards
English language books and screenplays only may be submitted.
Many of us would love to see more movies being produced that star Latinos and feature Latino themes.
The First Latino Publishing University Event
September 2020
Virtual
Workshops for authors & small publishers with sessions targeting topics such as marketing, metadata, illustration, production, distribution, agents, translation & more. 
Coming soon!
Designed to help elevate recognition of Latino publications and digital media excellence to the level their excellence merits. These are the BEST OF THE BEST in Hispanic media. We ask that you join us in helping GROW the José Martí Awards and Hispanic Print across the country. 
Latino Book & Family Festivals
The festivals began in 1997, and to date 67 festivals have been held in 8 markets around the U.S., including Chicago, Dallas, Houston, Los Angeles, New York, Phoenix, San Bernardino & San Diego.