2022 NC San Diego Latino Book & Family Festival
Saturday, October 15, 2022, 10am-4pm
Exhibitor registration is now closed.
70th Latino Book & Family Festival and 12th in San Diego County. 
Community leaders, educators, librarians, and Award Winning Authors come together to ensure that the event is well organized, well attended, and has a great array of workshops, activities, and entertainment. 4,000+ companies have participated from the automotive, communications, educational, energy, entertainment, financial services, food, governmental, insurance, library, media, nonprofit, publishing, retail, travel & transportation, and union sectors. Be part of this literary effort and delivery your product, service or message to everyone in the audience!
Empowering Latino Futures (ELF), formerly Latino Literacy Now, is a nonprofit 501c3. Your contributions and sponsorships are tax-deductible and appreciated.
CONTACT REPRESENTATIVES
Edward Becerra (760) 681-9950 
EducationBeginsintheHome@gmail.com 
EMAIL OR MAIL YOUR FORMS. Make checks payable to Empowering Latino Futures:
Empowering Latino Futures
Attn: Event Services
624 Hillcrest Ln
Fallbrook, CA 92028
Empowering Latino Futures is a 501c3 nonprofit organization. Federal ID number 33-0868486.
This event works to bring resources to the local communities. Last year, the event was hosted in San Bernardino County & San Diego County. We believe that our event directly impacts the lives of 20% of its attendees and that makes this event successful. Every family is important and makes a difference in their community.
Data from the 4 month 2021 Virtual Festival
The event is also promoted on the facebook page of the Empowering Latino Futures for a higher expose to all our audiences. Also, the event was promoted via North County Informador eNewsletter and the Hispanic Marketing 101 eNewsletter with combined contact list of 12,200 and a 37% open rate.
2022 In-Person Festival Expected Numbers
Thank you GREAT sponsors!
A huge thank you to our GREAT partners & supporters!!
Festival Map & Exhibitors
AUTHOR VILLAGE
Adobe House Press
AWA Author Tables
Black Girl, Brown Girl Books
Carl Solomon Sr
Cecilia Caballero
Erica Alfaro
Esther Reyes Jones &
Beatrice Zamora, AWAs
Hector Jimenez
Intuikons
Maria E. Garcia
North Fourth Publications
Pilar Kellenbarger
Randy Jurado Ertll
Rita Soza & Frank Cruz
Sandra Rodriguez
Share International USA
Sierra Blanca Books
The 16 Rule
Thomas Prezelski
Vibiana Aparicio Chamberlin
Yesenia Rodriguez, Author
COMMUNITY VILLAGE
ACLU-SDIC
Bahai
County of San Diego Health & Human Services Agency
Las Valientes / Gods Heart Ministry
Latino Book & Family Festival Info
League of Women Voters
North County San Diego
MiraCosta College Transitions
New York Life Insurance Company
RMC Automotive Specialties
Route 78 Rotary Club
San Diego County Credit Union
San Diego Gas & Electric (SDG&E)
Southern Caregiver Resource Center
Supervisor Jim Desmond
The San Diego Union-Tribune
Universidad Popular
EDUCATION VILLAGE
Education Begins in the Home
Escondido Unified School District
Minute Maid
MiraCosta College EOPS
MiraCosta College
LGBTQIA+
MiraCosta College Student Ambassadors
MiraCosta Service Learning
MiraCosta Student Equity
Oceanside Unified School District
Vista Unified School District
FOOD VILLAGE
Bacon wrapped Hot Dogs from the Community Social Media Club
Fruity Fruits
MECha Chicharrones, chips, and water
Tacos for Scholarships
And other food
HEALTH VILLAGE
Blue Shield of California
Mental Health Systems, Inc
Neighborhood Healthcare
TrueCare
Vista Community Clinic
CHILDREN'S VILLAGE
Children's Paradise
MAAC
Oceanside, Carlsbad, & San Diego County Public Libraries
San Diego Council on Literacy
OTHER PARTNERS
AARP California
Mira Costa College
Oceanside Public Library
Adelante Bookmobile
The purpose of the event is to help and impart opportunities in the community, ideally reaching out to Latino families and youth. Highlight the importance of literacy (books, health, wealth) and promote awareness of college, career paths, and community resources. Meet our Award Winning role model authors as they share the importance of reading, activism & equal representation. 
The Latino Book & Family Festival was first celebrated in 1997, and up to now 70 festivals have been held since then in eight markets around the USA including Chicago, Dallas, Houston, Los Angeles, New York, Phoenix, San Bernardino, and San Diego.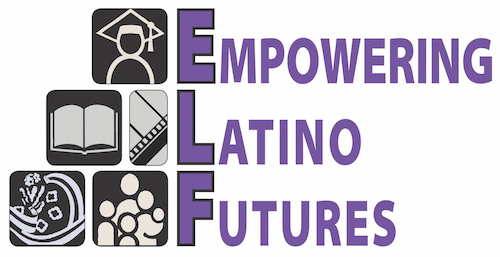 The Latino Book & Family Festivals is a community program of Empowering Latino Futures, a 501c3 nonprofit headquartered in Fallbrook, CA. The organization believes that community success is limited by access to resources and so it provides this free setting to learn and be exposed to opportunities.